Dr. Bryan McAlister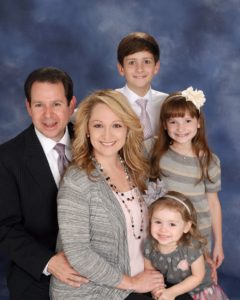 I am the youngest (08-15-1978) of two sons born to Robert and Kristie McAlister of Jonesboro, IL. Their gift to their sons was a faithful Christian home. My brother (R.W., also a gospel preacher) and I are eternally grateful for their love, influence, and support.
In 1999 I was honored to marry Mendy Karraker of Dongola, IL. She is God's constant blessing to me. In 2003 we welcomed our son, Connor to our family. In October 2006, we were blessed again by God with our daughter Kendyl. November of 2011 we welcomed our third child and second daughter, Kinley. March of 2015, Carsen, our fourth child and second son was born. Mendy has a Bachelors of Music Education from Southeast Missouri State University. For five years she taught high school band and choir and then two years of elementary school music. When Connor was born she chose to stay home and raise our children. Their lives and mine are far richer because of her commitment to our family. Rare are the times I travel to speak when Mendy and the children are not with me.
I am a 1998 graduate of Shawnee Community College; a 2000 graduate of Southeast Missouri State University (B.S. Elementary Education). From 2002 to 2004 I took graduate courses in counseling through Freed-Hardeman University. In December 2007 I obtained my Master of Arts in Community Counseling from Southeast Missouri State University. I have earned the credentials of PLPC and NCC. In the fall of 2014, I began teaching as an adjunct instructor for FHU|Dickson. It is a great honor to be associated with this distinguished and honorable university. In 2017 I obtained my PhD in Professional Counseling through Amridge University.
At the age of fifteen I preached my first sermon at the Little Egypt Christian Youth Camp in Dahlgren, IL. At seventeen I would substitute preach for congregations in Vienna, Dongola, Cario, and Anna, IL. In July of 1999 I began working as an Associate Minister at the West End Blvd. Congregation in Cape Girardeau, MO. During this time I also taught elementary school (3rd grade). The most rewarding portion of this work was ministering alongside my friend and mentor David Bragg.
From February 4, 2001 until December 31, 2008 I was honored with the task of being minister for the Jackson, MO Church of Christ. Through their love and care in Christ, we have been blessed a hundredfold. I have been privileged to speak in gospel meetings, youth rallies, mission work, and lectureships in Alabama, Illinois, Kentucky, Missouri, Tennessee, Texas, and Utah. It has also been an honor to write for publications such as Gospel Advocate, THINK Magazine, and Hope and Expectation, an online publication sponsored by the Jenkins Institute.
January 1, 2009 began our relationship of ministry with the Centerville Church of Christ, Centerville, TN. We are honored beyond words to be named among the rich heritage that is associated with God's people in this treasured community. Our desire is to honor this heritage by continuing to serve in a manner consistent with Centerville's reputation; while pursuing more and new opportunities to glorify our God in heaven!